Dixie Valley Water Resources Study
Bureau of Reclamation & Churchill County, Nevada
Interflow Hydrology was part of a team of professionals that conducted a comprehensive multi-year study of the water resources of Dixie Valley, located east of Fallon, Nevada. The purpose of the study is to refine the understanding of the groundwater flow system and water budgets in Dixie Valley, including advancing the understanding of complicated interactions betw
een geothermal flow systems, high salinity playa brines, and fresh water aquifers. The study team included the US Geological Survey, Bureau of Reclamation engineers and scientists, the Nevada Division of Water Resources, and Churchill County consultants, with specialized expertise in geothermal flow systems, remote sensing for water budget evaluations, and hydrologic data collection.
Interflow Hydrology conducted baseline reconnaissance for springs in the basin (Dixie Valley Spring Reconnaissance and Sampling Report), assisted with well and water level surveys, aquifer testing (Aquifer_Testing_Dixie_Valley), and assisted with installation and maintenance of 9 high-altitude precipitation gages.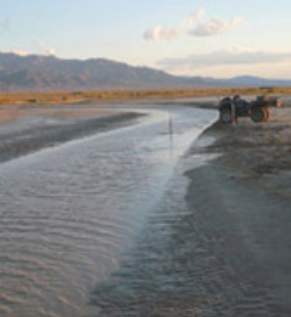 As part of the study, Interflow Hydrology implemented a 22 gage stream flow monitoring network to collection data on ephemeral run-on to the playa, perennial stream flows from the surrounding mountains, and stream flow losses on the alluvial fans and valley floor (Dixie_Streamflow_Report).
To conclude the study, Interflow Hydrology developed a calibrated numerical groundwater flow model of the basin to bring together a comprehensive understanding of the basin flow systems, and evaluate potential groundwater pumping scenarios (Dixie_Model_Report 2016).